Fundraising in 2020 and Beyond: Six Significant Trends
"If you're not confused, you're not paying attention."
So says bestselling author and management consultant Tom Peters–and given the 24/7 deluge of information about disruption in our sector, who isn't feeling a bit lost at sea?    
How do we chart a course for clear sailing into the next decade? What are the critical trends and factors we need to heed?
At KCI, we believe the key question is: Now what?

With a view to cutting through the noise, connecting the dots and helping you pinpoint what truly matters, here's our take on the key trends for successfully raising money—in 2020 and beyond.

TREND #1: Uber- competitive, increasingly concentrated fundraising landscape
From crowdfunding to for-profit brands with a social purpose, more entities than ever are seeking to tap into Canadians' "do good dollars".  And, let's not forget the 86,000 Canadian charities who continue to vie for a piece of the fundraising pie…where 75% of fundraising revenue is generated by a mere 5% of organizations.
Now What? Organizational strategy is more important and relevant than ever; what you do, how you do it, where you work, who you partner with, who cares about you, how you connect. 
Mission matters most. In this era of hyper-competitiveness and an evolving definition of what being charitable means, mission is the kingpin of your strategy. That's the whole point, and that's what donors want – to make a difference and support an organization's mission.
If Mission is King, Distribution is Queen: Marketing and communications remain crucial strategic components: create a compelling story, determine your audience and build community–in multiple formats, across multiple channels.
Partnering is paramount: When considering your organizational strategy, it's more critical than ever to seriously think about the potential of partnering–or even merging—with like-minded organizations.

TREND #2:  The renaissance of campaign fundraising—but one size fits none
KCI is seeing a resurgence in campaigns; look no further than the 450 campaigns in Canada today—with a total goal close to $20 billion. 
Now What? Create or keep campaigns in your toolkit, but…
Plan to Plan: There is no such thing as a "standard" campaign anymore. Think through your goals, history, starting point and external environment and then figure out what's best for your situation.
Plan to Invest: Because campaigns cost–usually between 5% and 20% of goal. And be realistic about where that investment will come from…as the most common source of campaign funds continues to be the operating budget.

TREND #3 – All about wealth – new / transfer / concentration / changing face of wealth in Canada.
Across Canada, private financial wealth has never been more abundant—or more concentrated. In the coming decade, the wealth of households with more than $1 million in assets is expected to grow by 78%. Plus, women now control an increasing percentage of wealth in our country.  And finally, a greater percentage of today's wealthy are self-made and have different attitudes and perceptions.
Now What? Focus on individual giving programs that build personal, ever-deepening relationships with higher capacity donors.
Focus on Major and Principal gifts: Major gifts have long been "a thing", but today we're seeing an increasing focus on mega-philanthropy. From our 2018 report on campaign fundraising the overall percentage of goal derived from $1 million+ gifts was 46%.Depending on the maturity of your fundraising program or your type of organization, if you don't already have a principal/major gift strategy, now could be the time.
Allocate time, attention and resources to Mid-Level gifts: Historically, this group of donors has been overlooked or downright ignored. Which means we're leaving money on the table!
Strengthen the ties that bind: Deep, meaningful relationships built over time are the ones that maximize donor equity.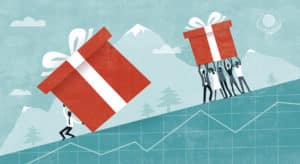 TREND #4 – Accelerating digitization and analytics
It's unlikely necessary to explain why we're including this as an important trend, but if you need any evidence, 91% of Canadians are internet users; 93% have mobile subscriptions; and 66% have purchased online. We're also undertaking many other activities online—like researching charities and giving opportunities: the Canada Helps 2018 Giving Report shows that online giving grew over 20% ANNUALLY between 2006 and 2015.
Now What? Take a digital approach to fundraising that values data and crosses program boundaries. 
If you haven't already, establish your digital strategy…but be clear on what that means: It's more than just an online campaign…it means an entire digital landscape, comprising your Website, Social Platforms, E-mail Outreach, Search Engines, Content, Digital Marketing, Mobile Strategy and Tools, Data Tracking and Integration.
Data: Without good data, it's virtually impossible to "go digital", so getting your data house in order is a critical concurrent, or even first step in becoming digitally competent.

TREND #5 – Multi-generational giving
There is plenty of evidence that different generations are giving meaningful amounts. But there is also evidence that different generations behave, engage and interact with charities differently. 
Now What? A multi-program, multi-channel fundraising approach is essential.
A multi-channel communication approach: The donor/prospect journey happens seamlessly; everything they see and hear about us (think newsletters, billboards, radio, mailings, online advertising, blogs, social media) must be integrated and consistent—across all channels.
Fundraising programs tailored to multi-generational giving preferences: Millennials, Boomers, Generation X, Y and Z. Online. Offline. Today's fundraising landscape is nothing if not complex and so important to be sure you have your bases covered.

 TREND #6 – Great expectations
Whether it's big leaps in revenue growth over short periods of time, impatience for the next mega gift or the push for "plug and play" candidates with little or no tolerance for learning curves, Institutional Impatience  and managing expectations for "more and faster" is the new normal.
Now What? Lean in; educating and managing expectations are key parts of the role of fundraising leadership.
Collaborative Planning: Involve all key stakeholders (boards, institutional leadership, finance department, staff and volunteers) in decision making; let your data do the talking and root decisions in data.
Open and Transparent Communications: Monitor results and adjust as needed. Continuous, transparent, open communications and sharing results go a long way toward realistic expectations.
 And, as you plan your fundraising for 2020 and beyond, keep one other thought in mind.
We see organizations regularly hesitating to advance their fundraising ambitions and aspirations, worrying whether the internal or external environment is conducive to success.  There will never be an ideal time to move forward. So, while important to keep these trends in mind and root your plan and actions in data, there's never a bad time to get out there and Make. Something. Happen.